Hotel Azoul
Hotel
Av Mohamed 5, 45000, Ouarzazat

The Azoul hotel is situated in the heart of Ouarzazate, just a 3-minute walk from the souks and a 5-minute walk from the bus station. It offers authentically decorated rooms and features a rooftop terrace with panoramic views of the Atlas Mountains.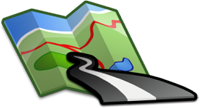 Plan your stay in Ouarzazat
Please wait...
Loading...
Select a destination
Loading...

Pictures Gallery
Be the first to add a picture of this hotel :

Reviews
Be the first to add a review of this hotel :