Plage Blanche
Beach

Playa Blanca or White Beach is known to be the longest beach in Africa and the third in the world with almost 50km of fine sand and beautiful blond dunes. It is located about 60 km from the city Guelmim.
It is the ideal place to get away from the stress of big cities but also people. You will be alone in the world and it feels good from time to time.
To get there, you must take the exit on your left coming from Guelmim on the road to Ifni, the exit is just outside the city. The road is entirely paved except for the last two kilometers which are passable with a normal vehicle.
If you are not motorized, in summer there is a bus that runs between Guelmim and White Beach. He will drop you near a camp of Sahrawis. Otherwise you have taxis that can take you there.
But also, you can always rent a 4x4 car with driver to browse the beach and stop where you want to enjoy it without much walking.
You will surely come across camels in the area, sometimes they even go to the beach.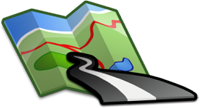 Plan your stay in Guelmim

Pictures Gallery

Reviews
Be the first to add a review of this place :